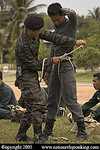 This website has been created to provide information on the Royal Thai Police, Royal Thai Military, and other Thai public services. Although Thailand has a population of over 65,000,000 people and Bangkok is one of the largest cities in the world, there are almost no English language resources available for those interested in these fascinating parts of the Thai Government. Even in Thailand, there is almost nothing published on the Royal Thai Police.
Unfortunately, most information published on the Royal Thai Police focuses on negative aspects and completely overlooks the vast amount of good they do. Thai Civil Servants, including the Police and Military, work for very little pay and have some of the toughest jobs in the Kingdom of Thailand. It is hoped that this website can provide more information on the structure, training, and other aspects of the valuable services these individuals provide.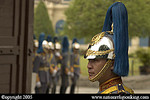 In the short time since this website was created, we have received wonderful support from numerous individuals. We wish we could personally thank everyone by name but unfortunately, we can not. Instead, we would like to offer our most sincere gratitute to those who have shown us their kindness and have gone out of their way to help us.
ไม่นานนัก หลังจากเว็บไซต์นี้ได้ถูกสร้างขึ้น เราได้รับความอนุเคราะห์อย่างดียิ่ง จากหลายๆท่าน ที่เราไม่สามารถที่จะเอ่ยนามเพื่อขอบพระคุณได้ โอกาสนี้ เราจึงขอ กราบขอบพระคุณทุกท่าน ที่ได้สละเวลา และให้การสนับสนุนเรา ด้วยความกรุณา แม้ว่าจะมิใช่ภารกิจของท่าน เพื่อให้เรา ได้ทำเว็บไซต์นี้ ได้สมบูรณ์ชัดเจนยิ่งขึ้น